The European Science Fiction Society
14.IV.2013
Society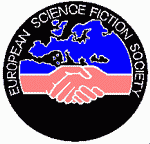 The European Science Fiction Society is an international organisation of SF professionals and fans who are committed to promoting Science Fiction in Europe and European Science Fiction worldwide.
The organisation was founded at the first European Science Fiction Convention, Eurocon, which was held in 1972 in Trieste, Italy. Since that time, the organisation has organized European Science Fiction Conventions (Eurocons) at least every two years. The organisation also administrates the European SF Awards.
Site: http://esfs.info
Awards
The list of nominations in which ESFS Awards was awarded at Eurocon 2013 is given below.
Grand-Master
Terry Pratchett
Iain Banks
I. Hall of Fame:
Best Author
Mary Gentle

Andreas Gruber
Michel Jeury
Anja Kuemmel
Frantisek Novotný
Vadim Panov
Liviu Radu
Miha Remec
Nikolay Tellalov
Dario Tonani
Andriy Valentynov
Best Publisher
Argus

Azbooka
Beccon Publications
Delos Books
L'Atalante
Mentor
Millenium Books
Jürgen Schütz
Shiko

Ernst Wurdack
Best Artist
Tomasz Baginski

Milivoj Ćeran
Martin Frei
Manchu
Catalin Negrea
Johann Peterka
Nikolay Redka

Plamen Semkov

Sergei Shikin
Jana Souflová
Anne Sudworth
Best Promoter of Science Fiction
Istvan Burger
Michael Haitel
Michael Haulica
Gérard Klein
Helmuth Mommers
Kalin Nenov
Alexander Sidorovich
Davor Šišović
Silvio Sosio
Best Magazine
45th Meridian

Fantascienza.com
FantAstika Almanac
Fiction (new version)
Geek
Helion
ISF
Quaber Merkur
Scifiworld
SFX
Best Translator
Stefan Ghidoveanu

Svetlana Komogorova
Petr Kotrle
Patrice and Viktoriya Lajoie

Kirill Pleshkov

Christiane Poehlmann
II. Spirit of Dedication
An artist
Kateryna Bachilo

Filip Burburan

Mircea Oprita
Pierre le Pivain
Karin Tidbeck
Michael Marcus Thurner
Best dramatic presentation
Best Fanzine
Darker

Gazeta SF
Géante rouge
Fandango

Fénix

Jasubeg en Jered
Sborishte na trubaduri
Best Website
ActuSF

BG-Fantastika
BVI archives
drugotnost.si
Fantascienza.com
Europa SF

perrypedia.proc.org
III. Encouragement Awards
Stefan Cernohuby
Aleksandra Davydova
Boris Georgiev
Lívia Hlavačková
Leonid Kaganov
Anton Lik
Julie Nováková
Oleh Silin
Martin Vavpotič
Ioana Visan
IV. Honorary Awards
Harry Harrison, in memoriam
Boris Strugatsky, in memoriam